I've had 3 power antennas on my '94 CE1, and now I'm starting to get that stuttering sound from the plastic gear strip that drives the mast. Again. So, after I ordered a new mast to replace it with, I came up with a small mod to be able to control the power to the antenna motor. I don't listen to much commercial radio, and the stations I do listen to are local, and have a strong signal. So the only time I even need the antenna is when I am out of town. I have an ipod dock, which I usually listen to, and the system I have powers up the antenna no matter what source I'm using. This means the antenna goes up every time I turn the system on. I added a small toggle switch to keep the power from reaching the antenna unless I want it to go up, which is not very often. This way, I am hoping this mast will last a lot longer than the previous ones have.
The wire on the radio harness that powers the antenna is blue. I spliced this wire and connected it to the smallest toggle switch I could find. I got it from an electronics salvage company called "Gateway". They have many locations nationwide, but any SPST toggle switch will work. All you need is ON/OFF.
After looking for an appropriate location for this switch, I settled on the cigarette lighter surround.
Here's the switch in the lighter surround, looking at the back side after I mounted the switch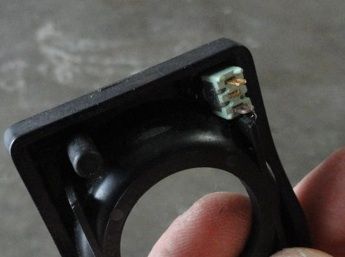 This is what it looks like from the front. I was in too much of a hurry when I drilled the lighter surround, and messed up; it is made from some kind of phenolic material, and is much more brittle than the plastic stuff that the rest of the dashboard is made from. So when I drilled it, it split out on the front where the switch was going to go. I planned on having the switch threaded into the plastic surround, but had to change my plan when the drill blew out the front side of my hole. I used a countersink to clean up the blow-out, and the put some heat shrink on the switch shaft threads, and glued the whole thing in with cyanoacrylate. This is just to show that when you f&%k up, you can sometimes recover.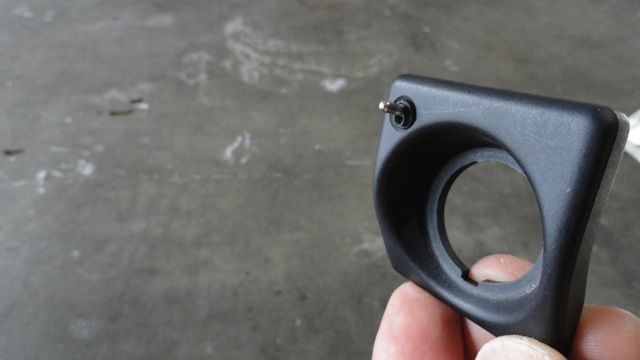 And here it is in the car, before I put the system back in.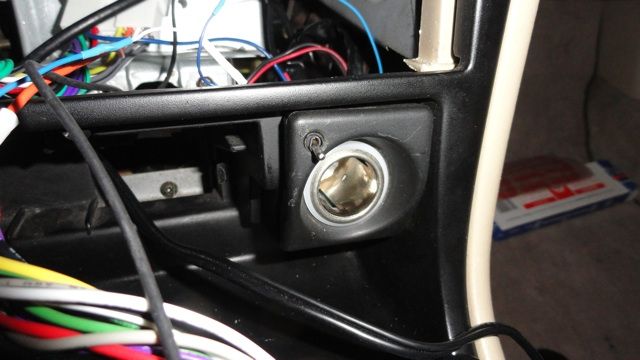 Down is off, and up is on. when I need the antenna, I just flip the switch.